Posts for: February, 2021
By Blue Hills Dental Associates
February 20, 2021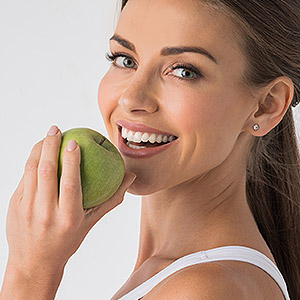 You're more apt to lose teeth because of periodontal (gum) disease and tooth decay than any other cause. But neither of these bacterial diseases have to happen: You can prevent them through daily brushing and flossing and twice-a-year dental cleanings.
But that's not all: You can also boost your dental care practices by eating foods that strengthen and protect teeth. On the other hand, a poor diet could reduce the effectiveness of your oral hygiene practices in preventing tooth decay or gum disease.
A diet that might lead to the latter is often high in refined sugar (sucrose), often added to processed foods and snacks to improve taste. But sucrose is also a top food source for oral bacteria, increasing their numbers when it's readily available. A higher bacterial population greatly increases your risk for tooth decay or gum disease.
On the other hand, certain foods benefit your overall dental health. Fresh fruits and vegetables, for example, are filled with nutrients and minerals like vitamin D or calcium that strengthen teeth against disease. And although they can also contain natural sugars, these don't pose the same problems as added sucrose due to the plant fiber you consume with them.
Dairy foods can also help you maintain healthy teeth and gums. Milk and cheese contain minerals like calcium and phosphorus, and a protein called casein, all of which strengthen teeth against decay. The enzymes in cheese stimulate saliva, which in turn neutralizes mouth acid and prevent it from harming enamel.
Some foods are also natural sources of fluoride, a mineral that strengthens tooth enamel. One example is black tea, which also, along with green tea, contains antioxidants that protect against cancer.
The best strategy for "tooth-friendly" nutrition is to pursue a diet that's high in fiber-rich natural foods and low in sugar-added processed foods. In practice, you'll want most of your diet to consist of fresh fruits and vegetables and low-fat dairy food, while minimizing foods with added sugar.
Following this kind of diet will certainly benefit your overall health. But it will also make it easier for you to prevent dental disease and keep your teeth and gums healthy.
If you would like more information on how nutrition can boost your dental health, please contact us or schedule an appointment for a consultation. You can also learn more about this topic by reading the Dear Doctor magazine article "Nutrition & Oral Health."
By Blue Hills Dental Associates
February 10, 2021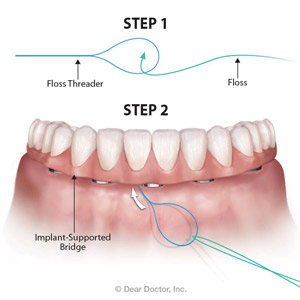 In recent years, dental implants have helped traditional bridgework take a giant leap forward. A few strategically placed implants can provide the highest support and stability we can currently achieve for this well-known dental restoration.
Implants derive this stability from the bone in which they're imbedded. Once surgically installed, the bone around a metal implant begins to grow and adhere to its titanium surface. Over time, this creates a strong anchor that firmly holds the implant in place.
But the implants' stability can be threatened if the gums around them become diseased. Gum disease, a bacterial infection caused mainly by dental plaque, can advance silently below the gum surface until it ultimately infects the bone. This can cause significant bone loss around an implant, which can weaken it to the point of failure.
To avoid this scenario, it's important to prevent gum disease by flossing daily to remove accumulated dental plaque between the implant-supported bridge and the gums, particularly around the implants. This kind of flossing around bridgework is more difficult than flossing between teeth, but it can be done with the help of a device called a floss threader.
A floss threader is a small plastic hand tool with a loop on one end and a stiffened edge on the other (similar to a sewing needle). You begin by threading about 18" of dental floss through the loop, and then work the other end of the threader between the bridge and gums to the other side.
With the floss threaded between the bridge and gums, you can now remove it from the threader, grasp each end, and floss around the sides of each implant you can reach. You'll then need to repeat the process by removing the floss, rethreading it in the threader and inserting it into the next section between implants, continuing to floss until you've accessed each side of each implant.
You can also use pre-packaged floss thread sections with a stiffened end to facilitate threading. But whichever product you use, it's important to perform this task each day to prevent a gum infection that could rob you of your implant-supported bridge.
If you would like more information on oral hygiene practices with dental work, please contact us or schedule an appointment for a consultation. You can also learn more about this topic by reading the Dear Doctor magazine article "Oral Hygiene for Fixed Bridgework."