Posts for: September, 2020
By Blue Hills Dental Associates
September 19, 2020
Dorit Kemsley isn't shy. Best known to fans as an outspoken and sometimes outrageous cast member of the reality show Real Housewives of Beverly Hills, Kemsley is never reticent about "mixing it up" with fellow castmates or their significant others. Recently, though, she confessed to something that left her less than confident: her smile.
Kemsley has been self-conscious about her smile because her teeth looked noticeably short, worn down from an unconscious habit of grinding her teeth. Although teeth grinding is more common among children (who normally grow out of it by adolescence), it can persist into adulthood, usually from difficulties managing high stress (a likely component in the fashion designer/reality show star's busy life).
Stress-induced teeth grinding can occur during waking hours or, more likely, during deep sleep. The accumulating, long-term effects from the habit can lead not only to worn teeth but to weakened gum support, a high risk of tooth fracture or jaw pain and dysfunction.
So, how do you know if you grind your teeth, especially if it's only happening at night? Typical signs include sore jaws after awaking from sleep, increased tooth pain or sensitivity or, like Kemsley, a noticeable difference in your tooth length. Your family or sleeping partner may also complain about the "skin-crawling" noise you make during the night.
There are ways to lessen the effects of teeth grinding. The first step is to have us verify the underlying cause for the habit. If it's tension from stress, then you might reduce the habit's occurrences by learning better stress management or relaxation techniques through individual counseling, group support or biofeedback therapy. We can also fit you with a mouth guard to wear at night or through the day that reduces the force generated during teeth grinding.
And if you've already experienced accelerated tooth wear like Kemsley with a resultant "small teeth" smile, you might pursue the same solution as the RHOBH star: dental veneers. These thin, life-like wafers of porcelain are custom-made to mask imperfections like chips, staining, slight tooth gaps and, yes, worn teeth.
Veneers are often less expensive and invasive than other cosmetic techniques, yet they can have a transformative effect, as Kemsley's Instagram followers have seen. In conjunction with other dental treatments needed to repair any underlying damage caused by a grinding habit, veneers are an effective fix for the smile you present to the world.
If you suspect you may have a grinding habit, see us for a complete examination. From there, we'll help you protect your teeth and your smile.
If you would like more information on teeth grinding habits and their effects, please contact us or schedule a consultation. To learn more, read the Dear Doctor magazine article "Teeth Grinding."
By Blue Hills Dental Associates
September 09, 2020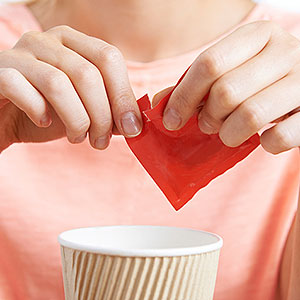 Refined sugar is a prime food source for disease-causing oral bacteria. As bacteria consume sugar they produce high levels of acid that over time can erode enamel and leave a tooth vulnerable for decay.
The solution to stopping this vicious process is simple: cut back on eating refined sugar. The reality, though, is a bit more complicated. Many of us seem genetically hard-wired with a "sweet tooth," perhaps a remnant of our early ancestors' sense that sweet foods were a safe means to obtain energy.
Food manufacturers likewise don't help with making this dietary change — the number of items with added sugar has ballooned over the last several decades. We can trace a lot of this back to the unintended consequences of past government guidelines that called for removing fat from processed foods. But this also removed flavor, so manufacturers began adding sugar (under a myriad of names) to compensate.
Sugar consumption is now a hot health topic for its suspected connection with inflammatory diseases like diabetes and cardiovascular disease, as well as dental health. We now have a love-hate relationship with sugar — we want to show it the door but we can't quite bring ourselves to let it go.
The situation has created a market for artificial sweeteners. The amount and types of sugar alternatives has exploded since saccharine first emerged in the early 1960s. With these increased choices, though, there have also been increased concerns over their health impact, including in the mouth.
This concern has prompted numerous research studies. The conclusion: artificial sweeteners don't adversely affect the health of most people. And, from a dental perspective, artificial sweeteners can have a positive impact on teeth and gum health because unlike refined sugar they don't promote oral bacterial growth.
In fact, one particular sweetener may be even more beneficial to your teeth: xylitol. This sweetener, which comes from a sugar alcohol that oral bacteria can't digest, is often found in chewing gums, hard candies or mints. Â In effect, xylitol "starves out" bacteria to help prevent tooth decay.
From a dental perspective, replacing sugar with an artificial sweetener (especially xylitol) can be advantageous. And less sugar could mean more good news after your next dental checkup.
If you would like more information on artificial sweeteners, please contact us or schedule an appointment for a consultation. You can also learn more about this topic by reading the Dear Doctor magazine article "Artificial Sweeteners."