Posts for: January, 2019
By Blue Hills Dental Associates
January 18, 2019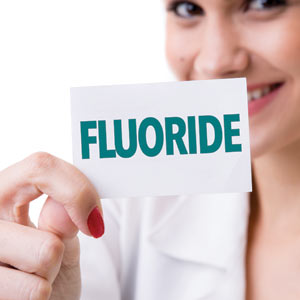 In the battle against tooth decay, fluoride is an important weapon. Since the discovery of its dental health benefits a century ago, fluoride has been credited with saving countless teeth.
But over its history in dental care, this natural-occurring chemical has also had its share of controversy with concerns raised from time to time on potential health dangers. These run the gamut from "conspiracy theory" speculations to credible research like a 2006 National Research Council study that suggested a possible increased risk of bone fracture or cancer from over-consumption of fluoride.
Even so, there is actually little evidence or even record of incidence for such dire consequences. The only definitive health effect from fluoride found after decades of copious research is a condition called fluorosis, a permanent staining effect on the teeth. Fluorosis poses a cosmetic problem but does not harm the health of the teeth.
Moderation in fluoride use seems to be the key to gaining its health benefits while avoiding fluorosis. One influential fluoride researcher, Dr. Steven Levy, estimates 0.05-0.07 milligrams of fluoride per one kilogram of body weight (about a tenth the weight of a grain of salt for every two pounds) is sufficient to gain the optimum dental benefit from fluoride.
The real question then is whether your family's current consumption of fluoride is within this range. That will depend on a number of factors, including whether your local water utility adds fluoride to your drinking water supply and how much. You may also be ingesting fluoride through processed foods, juices and even some bottled waters. And you can encounter fluoride in dental care including toothpastes and clinical treatments.
One way to moderate your family's fluoride intake is to be sure all your family members are using the correct amount of fluoride toothpaste for their age while brushing. Infants need only a slight smear on the end of the brush, while older children can brush adequately with just a pea-sized amount. For other tips and advice, talk to your dentist about your family's fluoride intake and how you might adjust it.
Even with the possibility of fluorosis, fluoride still provides an incredible benefit in preventing tooth decay. By understanding fluoride and keeping your intake within normal ranges you can maximize its benefit for healthier teeth and minimize the fluorosis risk.
If you would like more information on the role of fluoride in dental health, please contact us or schedule an appointment for a consultation. You can also learn more about this topic by reading the Dear Doctor magazine article "Fluoride & Fluoridation in Dentistry."
By Blue Hills Dental Associates
January 08, 2019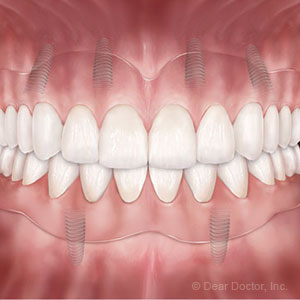 Not long ago, the most affordable option for total tooth loss was a removable denture. Dentures, prosthetic (false) teeth set in gum-colored acrylic plastic bases, can effectively restore function and appearance. But the appliance continues to have one major drawback: it can accelerate bone loss in the jaw.
Like other living tissues, older bone cells die and become absorbed into the body (resorption). Normally they're replaced by newer cells. The forces generated when we chew our food travel through the teeth to stimulate this new growth. This stimulus ends when we lose our teeth, and so cell replacement can slow to an abnormal rate. Eventually, this causes bone loss.
Removable dentures can't provide this stimulation. In fact, the pressure generated as they compress the gums' bony ridges can even accelerate bone loss. That's why over time a denture's fit can become loose and uncomfortable — the bone has shrunk and no longer matches the contours of the dentures.
In recent years, though, a new development has been able to provide greater support to dentures while at the same time slowing or even stopping bone loss. We can now support dentures with dental implants.
Implants are best known as individual tooth replacements: a titanium metal post replaces the root, while a life-like porcelain crown attaches to the post to replace the visible tooth. In addition to providing a longer-lasting alternative to removable dentures, implants provide a very important health benefit: they improve bone density because they mimic the function of natural teeth. Bone cells are naturally attracted to the titanium; they adhere to the titanium post and are stimulated to grow through the action of chewing, increasing bone density and securing the implant's hold in the jaw.
Using the same technology we can support removable dentures, or even full fixed bridges. Rather than rest directly on the bony ridges, a denture can make a secure connection through a coupling system with just a few strategically placed implants. We can also permanently attach a full bridge by fastening it to a few implants with screws.
Not only do we eliminate the pressure from dentures compressing the gums and bone tissue, we can actually stimulate bone growth with the implants. Although more costly upfront than traditional dentures, unlike traditional dentures which must be replaced every five to seven years, long-lasting implants may be more cost-effective over the long-run.
If you would like more information on implant-supported tooth replacement, please contact us or schedule an appointment for a consultation. You can also learn more about this topic by reading the Dear Doctor magazine article "New Teeth in One Day."