Posts for: September, 2018
By Blue Hills Dental Associates
September 20, 2018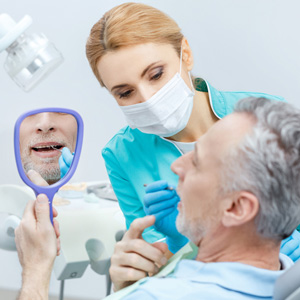 Today's healthcare patients are asking questions. They want to know the "why" behind the "what" that their care providers are recommending for their health.
There's a similar trend in dentistry — and it's one we dentists encourage. We want you to know the "why" behind your treatment options — because you're as much a participant in your own dental health as we are. The more informed you are, the better equipped you'll be to make decisions to maintain or improve your health and the appearance of your smile.
As your dental care partner, it's also essential we help you develop a long-term care plan based on your needs. There are aspects of dental care that are routine: daily brushing and flossing, an oral-friendly diet, and regular dental cleanings and checkups to assess your oral health. But we also need to think strategically, especially if you have risk factors that could impact your future dental health.
To do this we follow a four-step dental care cycle. In Step 1 we identify all the potential risk factors you personally face. These include your potential for dental disease, which could lead to bone and tooth loss, and the state of your bite and jaw structure that could complicate future health. We'll also take into account any factors that could now or eventually affect your smile appearance.
Once we've identified these various factors, we'll then assess their possible impact on your health in Step 2, not just what may be happening now but what potentially could happen in the future. From there we move to Step 3: treating any current issues and initiating preventive measures to protect your future health.
In Step 4 we'll monitor and maintain the level of health we've been able to reach with the preceding steps. We'll continue in this stage until we detect an emerging issue, in which we'll then repeat our cycle of care.
Maintaining this continuum will help reduce the chances of an unpleasant surprise in your dental health. We'll be in a better position to see issues coming and help reduce their impact now so you can continue to have a healthy mouth and an attractive smile.
If you would like more information on planning your dental treatment, please contact us or schedule an appointment for a consultation. You can also learn more about this topic by reading the Dear Doctor magazine article "Successful Dental Treatment: Getting the Best Possible Results."
By Blue Hills Dental Associates
September 10, 2018
For over a century dentists treated tooth decay by removing both diseased portions of the tooth and healthy structure deemed at risk for future decay. In the 1970s, though, a new approach emerged, known as Minimally Invasive Dentistry (MID). This practice protocol attempts to preserve as much of the healthy structure as possible.
Before MID, dentists followed a decay treatment protocol developed in the 19th Century. A part of this became known as extension for prevention calling for dentists to remove healthy structure considered vulnerable to decay. Besides reducing the tooth's volume, this practice also resulted in, by today's standards, larger than necessary fillings.
It was thought that removing this additional material would make it easier to clean bacterial plaque, the source of decay, but later, research showed the practice couldn't guarantee the teeth wouldn't be reinfected.
Since then we've learned a lot more about teeth and have developed new ways to detect decay at earlier stages. X-ray imaging, for example, has transitioned largely from film to digital technology, providing more detailed images at greater magnification. This, along with laser fluorescence and infrared cameras, has made it easier to detect the first tiny stages of decay.
We can also limit tooth decay damage by boosting enamel strength with fluoride applications and sealants or reducing decay-causing bacteria with anti-bacterial rinses. We've also seen advancement in techniques like air abrasion that remove decayed tooth material while leaving more healthy structure intact better than using a traditional dental drill.
Restoring teeth after treatment has also improved. While dental metal amalgam is still used for some fillings, the main choice is now composite resin. These new tooth-colored dental materials require less tooth preparation (and thus less material loss) and bond well to the remaining structure, resulting in a stronger tooth.
Following a MID protocol leads to less intervention and less time in the dentist's chair. It also means preserving more of a natural tooth, an important aim in promoting long-lasting dental health.
If you would like more information on minimally invasive dentistry, please contact us or schedule an appointment for a consultation.