Posts for: December, 2017
By Blue Hills Dental Associates
December 21, 2017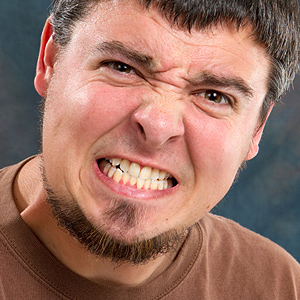 Teeth grinding and other biting habits are more than a nuisance — they can generate twenty to thirty times the forces of normal biting. Over the long term, this can cause significant damage to teeth and supporting gums and bone.
This particular kind of damage is known as occlusal trauma (meaning injury from the bite). In its primary form, the habit itself over time can injure and inflame the jaw joints leading to soreness, swelling and dysfunction. The teeth themselves can wear down at a much faster rate than what normally occurs with aging. And although less common but even more serious, the periodontal ligaments holding teeth in place to the bone can stretch and weaken, causing the teeth to become loose and increasing the potential for tooth loss.
There are a number of techniques and approaches for treating excessive biting habits, but they all have a common aim — to reduce the amount of force generated by the habit and the associated problems that result. A custom occlusal guard, often worn while sleeping, helps lessen the force by keeping the teeth from making solid contact with each other. Tissue soreness and swelling can be relieved with anti-inflammatory drugs like aspirin or ibuprofen, muscle relaxants or physical therapy. In cases where stress is a main driver, behavioral therapy and counseling may also be helpful.
Biting forces are also an issue for patients with periodontal (gum) disease. In this case even biting forces within normal ranges can cause damage because the diseased gums and bone have already been weakened. If gum disease is a factor, the first priority is to treat the disease by removing built up plaque. Plaque is the thin film of bacteria and food remnant that's both the cause and continuing growth of the infection, as well as tartar (calculus) from all tooth and gum surfaces.
A thorough dental exam will reveal whether a tooth grinding habit is playing a role in your teeth and gum problems or if it's magnifying the damage of gum disease. In either case, there are appropriate steps to stop the damage before it leads to tooth loss.
If you would like more information on teeth grinding or other biting habits, please contact us or schedule an appointment for a consultation. You can also learn more about this topic by reading the Dear Doctor magazine article "Loose Teeth."
By Blue Hills Dental Associates
December 06, 2017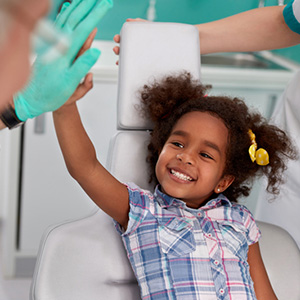 As a parent you want your child to have the best possible start in life. One of the greatest gifts you can provide them is a positive experience in dental care—especially visiting the dentist.
Unfortunately, not all children are so lucky. Visiting the dentist for them is foreign and forbidding; it leaves such a negative impression they may avoid the dentist later in life even when faced with acute problems.
It doesn't have to be like that. Here are 3 ways you can help your child have a great experience at the dentist.
Start dental visits early. The best time to begin dental visits is before your child's first birthday as their teeth begin to erupt. Dental diseases like tooth decay can begin as early as two months so it's vital to detect any problems as soon as possible. Establishing an early relationship with your child's dentist benefits you too with helpful tips and advice from them on dental care at home. And, children visiting the dentist early are more likely to become accustomed to it as a routine part of life, and more likely to continue the habit on their own.
Find the right dentist. The right dental practice can make all the difference in the world for your child's comfort level. Parents often choose a pediatric dentist who specializes not only in dental care for children and adolescents but in how to engage with them and put them at ease. The key, though, is to find a dentist and staff who work well with children and understand how to make them feel at home in their office.
Display a positive attitude. You've probably already noticed how your child picks up on your feelings in different situations—which often affect how they feel and act too. So be sure when you visit the dentist with them you have a positive, proactive attitude, ready to partner with their provider in treatment and prevention measures. And above all display a calm and relaxed manner: your child will be more apt to follow your cue and relax too.
If you would like more information on providing great dental care for your child, please contact us or schedule an appointment for a consultation. You can also learn more about this topic by reading the Dear Doctor magazine article "Taking the Stress out of Dentistry for Kids."